Interleukin-2 (IL-2), Aldesleukin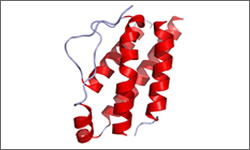 Usage:
IL-2 is used to treat metastatic kidney (renal) cancer and metastatic melanoma. IL-2 is administered into a vein (intravenously). It may be combined with other drugs. It is also being investigated for its use in treating some lymphomas and leukemias.1
Mechanism:
Interleukin-2 (IL-2) is a naturally occurring protein that is normally made by the body in small amounts. It allows cells of the immune system to communicate with each other. The drug, Proleukin®, is a man-made version of IL-2. This drug works by activating cells of the immune system (T lymphocytes) to attack and kill cancer cells.1
The diagram above shows the 3D molecular structure of Interleukin-2 with its alpha receptor. 
1Aldesleukin. MedlinePlus. https://medlineplus.gov/druginfo/meds/a692009.html
Contraindications:
Patients need to have normal heart (cardiac) and lung (pulmonary) function as determined by a thallium stress test.